公司介绍
Company Profile
上海汉维生物医药科技有限公司成立于2008年,是集宠物医药健康产品研发、生产、国内外营销全方位一体化的国际化高新技术企业;拥有15年行业经验,连续三次通过国家高新技术企业认定,获得上海市专精特新企业称号、金山区专利示范企业认定、金山区瞪羚企业认定等荣誉。
汉维宠仕拥有国际化高标准的生产体系,获得30项专利授权[1],9个国家新兽药证书[2],致力于在宠物抗感染、体内外驱虫、解热镇痛、心血管疾病、胃肠道疾病等领域提供规范、安全、有效的宠物专用新型药品、保健护理产品和专业化服务。在上海张江高科技园区,汉维按照ISO/IEC17025:2005及国际VICH&ICH指南要求建立了质量体系完善的专业动物药品研发检测中心,并于上海金山生物医药园区投资建立了符合国内外cGMP质量体系的现代化兽药工厂,目前该工厂已通过中国农业部GMP认证、澳洲APVMA (Australian Pesticides and Veterinary Medicines Authority) GMP认证和菲律宾GMP认证,2021年4条生产线1次性高分通过上海市农业农村委GMP专家组现场动态检查,零缺陷通过澳洲APVMA审计。截止到2023年,汉维宠仕拥有高质量多品类的全系列宠物专用产品42个,产品成为上万家宠物医院的忠实选择。
怀揣着"成为中国领先的国际化宠物医药保健品公司"的愿景,汉维宠仕以"关爱宠物生命健康,共建人与动物和谐相处的美好世界"为使命,践行着"客户第一,伙伴成长"的价值观,不断追求创建中国优秀的国际化专业宠物健康品牌。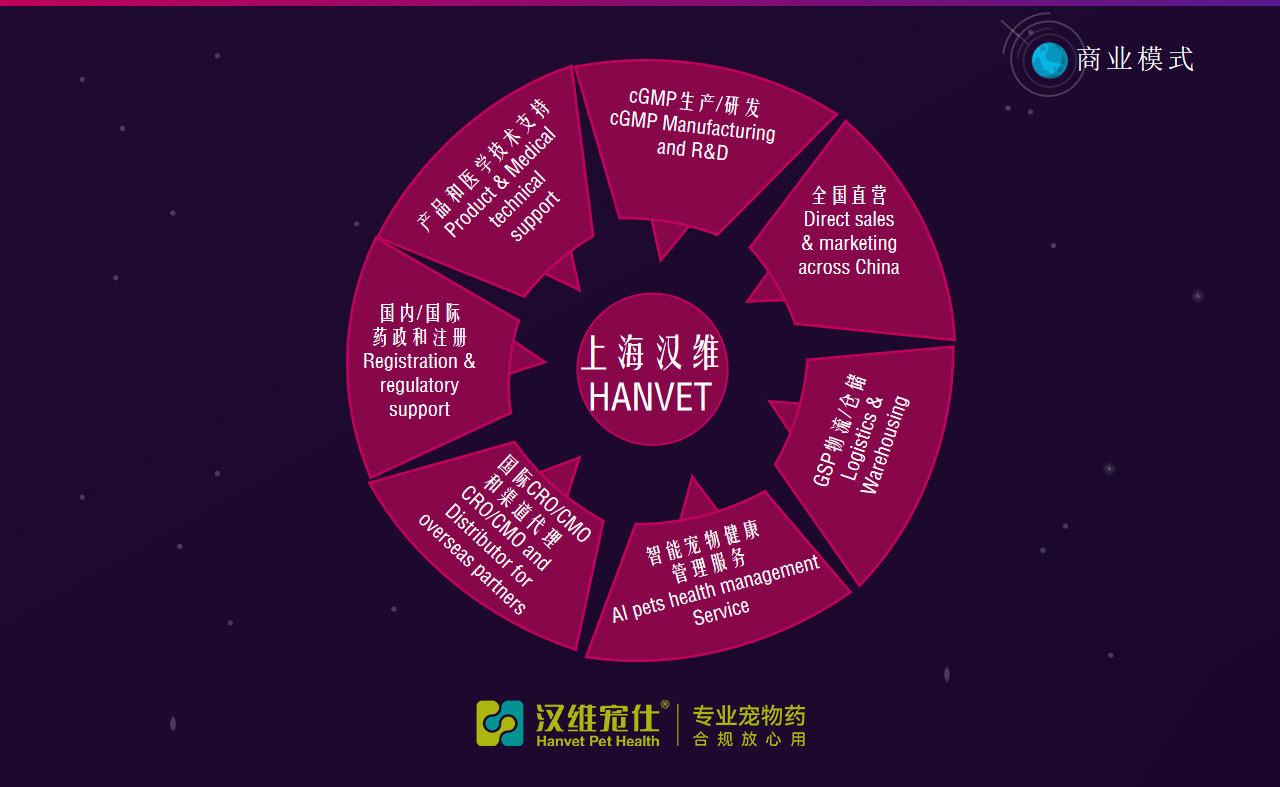 Shanghai Hanvet Bio-Pharm Co., Ltd. was established in 2008. It is an international high-tech enterprise integrating research and development, production, domestic and foreign marketing of pet medicine and health products.With 15 years of industry experience, the company
has been recognized as a national high-tech enterprise three times in a row,
and won the title of Shanghai Specialized, Fine and Special New Enterprise,
the title of Jinshan Patent Demonstration Enterprise, and the title of Jinshan Gazelle
Enterprise.
Hanvet has international and high standards production system, 30 patents authorized[1],
9 national certificate of new veterinary drug[2], is dedicated to the pet anti-infection,
insect repellent in vivo and in vitro, antipyretic analgesic, cardiovascular disease,
gastrointestinal disease, and other fields to provide standardized,
safe and effective for pet new drugs, health care products and professional services.
Hanvet has established a professional animal drug developing and testing center with
a complete quality system in Shanghai Zhangjiang Hi-tech Park in accordance with ISO/IEC 17025:2005 and international VICH&ICH guidelines, Hanvet also invested in Shanghai Jinshan Biomedical Park to establish a modern veterinary drug factory which conform to the domestic and foreign cGMP quality system. Currently, the factory has achieved the Australian APVMA (Australian Pesticides and Veterinary Medicines Authority) GMP certification,Malaysian and the Philippines GMP certification, also gain the Chinese Ministry of Agriculture GMP certification.In 2021, 4 production lines passed the on-site dynamic inspection of GMP
expert group of Shanghai Agriculture and Rural Committee with high scores, and passed the audit of Australian APVMA with zero defects. By 2023, Hanvet has 42 full series pet products of high quality and multiple categories, the products have become the loyal
choice of over ten thousands pet hospitals.
Adhering to the vision of "Become a leading international animal medicine and health care company in China"Hanvet treat "Jointly build a beautiful world where people and animals live in harmony" for the mission, uphold the "Customer first, partner growth" values, the pursuit to
create the internationalization of China's most outstanding professional pet health leading
brand.
迄今为止:
Achievements:

获得9个国家新兽药证




9 First Generic Drug Certificates in China

获得42项宠物专用药品国家批准文号




42 Market Approval Licenses for Pet drugs

获得30项专利授权、2项软件著作权、79个注册商标
30 Approved invention patents, 2 software copyrights and


79 registered trademarks in China

获得上海市科技型中小企业技术创新资金赞助




Funded by city government for product innovation

获得国家高新企业技术认定
Certified as National Hi-tech Enterprise by central


government

获得上海市"科技创新行动计划"基金资助
3 products on Shanghai new and high technology


transformation list

3个产品获得高新技术成果转化认定




Sponsored by Shanghai "Promoting Technology


Innovation Action Plan Project"

获得"创业在上海"国际创新创业大赛金山区二等奖
Won the second prize in"entrepreneurship in Shanghai"


International Innovation and Entrepreneurship competition

1个产品获得上海金山区专利新产品认定
1 product identified as "New Patent Product" of Shanghai


Jinshan district

获得上海市专精特新企业称号

Company with characteristics of professionalization, precision, specialization and originality

获得金山区专利示范企业认定




Patent model company of Jinshan District

获得金山区企业技术中心认定、金山区瞪羚企业认定

Enterprise technology center of Jinshan District with title "Gazella company"

获得金山区科技小巨人认定

Technical Little Giant of Jinshan District

附件:
[1]
专利列表
[2]
国家新兽药证书